Eye make-up: 2019 trends. How to choose matching mascara and colour to suit us?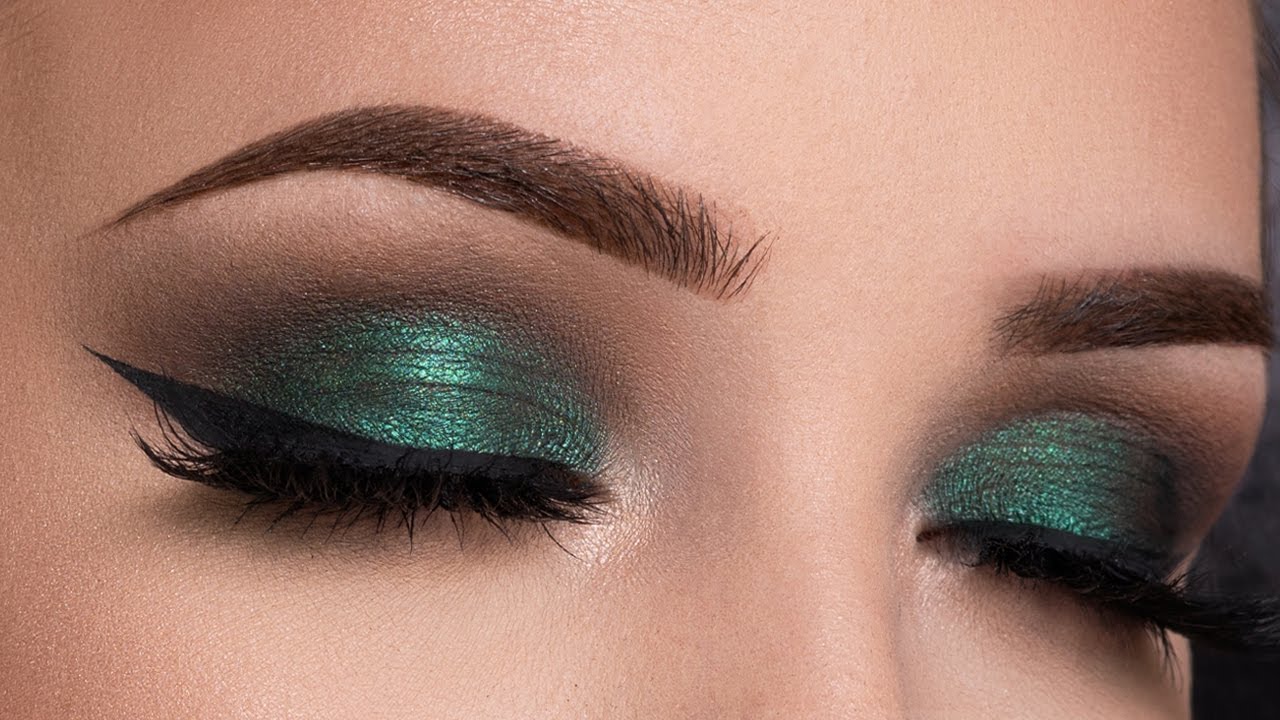 It's begun.
Every other woman checks what make-up trends are about to take over this year. It appears that 2019 focuses on eyes. It seems that there is no cosmetic that could be inappropriate now: eyeshadows of many bold colours mixed with subtle pastels are what counts most. The beginning of the year obviously equals glitter and glam, which makes the spirit of the carnival. An eyeliner of vivid colours is having its glory days, too. A lot will be also owned to black and colour eye pencil. Naturally, the colours should match one's beauty type and complexion. However, there is one colour that suits each of us equally well. You can't miss it in 2019 – Here it comes, green eye make-up!
Colour that suits all beauty types
Have you ever tried to apply green eyeshadows? If yes, you probably know how troublesome this procedure might be. The truth is, all shades in a palette that aren't as safe as nudes require a little bit more time to apply them in the right way, and frequently the effect is… far from what we expected to achieve. However, this doesn't apply to green shadow. Everyone looks good in this colour. Green matches every complexion type and iris, thus it's worth mastering the art of doing green make-up. Thanks to it, face looks fresh and the eye colour gets more vivid, it turns out to be more intensive and expressive than normally.
Green eyeshadow – Which tone suits each one of us?
Green – naturally, this term represents the whole colour gamut. Which one will dominate 2019? This year belongs to so-called bottle green. This is a colour that makes each face look really good. Apart from classic strong, raw green shade, emerald and green tinted with turquoise are other two variations that are found trendy this year. Basically, this goes with pewter, grey and silver eyeshadow and eye pencil that you can apply to the lower eyelid.
Quite brave and definitely carnival version of this kind of make-up is glittery green or sparkling, tiny diamonds used as eye decorations. It's also worth mentioning that make-up artists are eagerly reaching for scintillating metallic eyeshadow of bottle green shade. It goes well with shimmering, vanilla shade that you can blend with this juicy green.
What matches green eyeshadows?
As mentioned above, green colour looks good when combined with silver or pewter shade. If you look for something less intensive, give a try to either warm vanilla or light beige. Nude and all types of light colours can be used as base shadows. Basically, they can be also applied right under an eyebrow arch or to the inner corners of the eyes.
Green eyeshadow is a colour that shouldn't be left on eyelid on its own. The truth is, it may overwhelm the entire make-up if used alone. For that reason, apart from applying light nude shades and silver, make use of dark eye pencil or eyeliner, too. Thanks to these cosmetics you can accentuate the shape of your eyes and make the lash line look thicker.
2019 make-up – What type of mascara to use?
How should 2019 eyelashes look like? What should be used to coat eyelashes neatly? First and foremost, it must be realized that green eyeshadows don't look good if worn with delicate lash coats. Eyelashes have to be perfectly mascaraed to let them play in tune with the intensity of green colour. Since enhanced and thick eyebrows are going to stay popular in 2019, eyelash look must follow. Therefore, a reach for multi-purpose and well-pigmented mascara of ultra-black colour. To clarify, a multi-purpose mascara is a product that delivers fine effects even after four coats applied. Also, it thickens, extends, boosts volume and provides clump-free definition. Actually, precise lash make-up isn't considered as a trend any longer – it's a classic now. The best effects will be obtained with a mascara that goes with a silicone and ellipse-shaped brush.